Roof Ventilation & Roof Vents
Ventilation is crucial to the life and effectiveness of every roofing system. Vapors and condensation can cripple R-values and encourage hidden decay in the building structure. Liberty Roofing of Utah's certified personnel will create a system that performs where you see it, and where you can't.
It is estimated that 9 out of 10 homes in North America do not have proper attic ventilation. Why? Because most people are unaware that attic ventilation can impact the longevity of their entire home!
For example, in Utah's summers, an improperly ventilated attic can cause heat to build in excess of 160°F. This superheated air eventually penetrates the ceiling insulation into the living area below.
Types of damage that can result include:
- Premature aging of your roofing system ("fried" shingles)
- Warping, cracking, or breaking down of wood framing
- Damage to siding, exterior or interior paint, and wallpaper
- Higher energy costs
Proper Attic Ventilation
A properly ventilated attic can help reduce the load on your air conditioner by moving the superheated air out of your attic before it builds up and causes damage. In the winter, various household appliances, bathtubs, showers, and cooking vapors can contribute to excess moisture build-up. Improperly ventilated attics will allow this moisture to collect and cling to the underside of the roof. There, it will condense and fall, soaking the attic insulation and reducing its efficiency.
Keep in mind that every roof and attic must be inspected by a professional roofing contractor like Liberty Roofing Utah which can determine the proper type of ventilation system that is most effective for your home!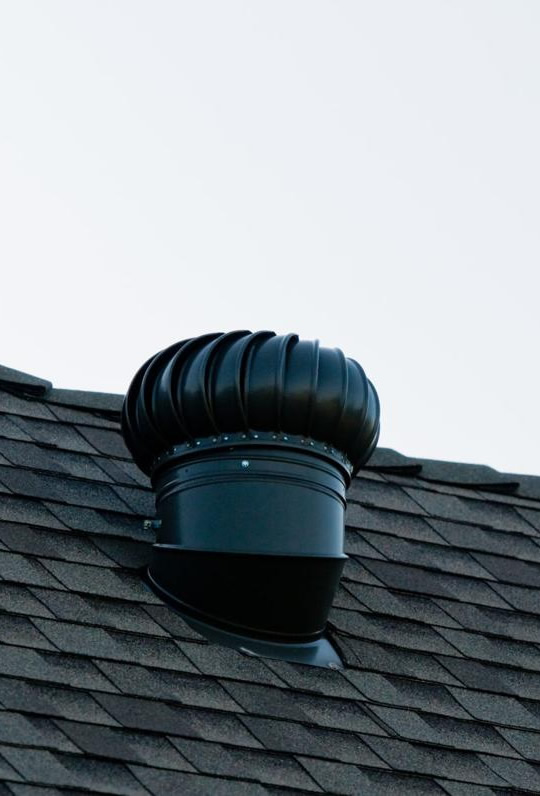 Award Winning Company

Expertly Trained
Roofers

Licensed, Insured & Bonded
Different Venting Options
Because venting is so important and roofs have many different challenges, facets, and sizes, your home may need different solutions to keep heat and moisture out of attics. Liberty Roofing of Utah will help you understand the difference between – Ridge vents, Turtle vents, Turbine vents, Solar and Power Attic fans, and more.
Why Call Liberty Roofing of Utah?
Liberty Roofing of Utah has earned the industry's leading certifications, including GAF Master Elite™ and CertainTeed Master Shingle Applicator. We also work with Owens Corning, other leading suppliers of roofing supplies and insulation. When it comes to properly ventilate and insulating your attic, Liberty Roofing of Utah has the training, the knowledge, and the backing of the biggest names in the Roofing industry, so you know that your new roof will last for decades to come. Call Liberty Roofing of Utah today at
(801) 377-7720
and we will come to you to perform a free roof analysis.