About Liberty Roofing Utah
Liberty Roofing provides quality roofing services for 40+ years. Give us a call for a Free Estimate today! We offer a broad selection of roofing services for commercial and residential properties. No matter what type of work you need done, you can trust our skilled roofers to do the job right.
Family Owned & Operated
Liberty Roofing remains a locally, family owned company who gets to know each of our customers. This is a mutually beneficial situation; you want quality, long-lasting roofing installation and replacement, and we strive for long-term business relationships. We want to prove our value with every task, no matter how big or small, and whether or not you're a first-time customer or a member of our family.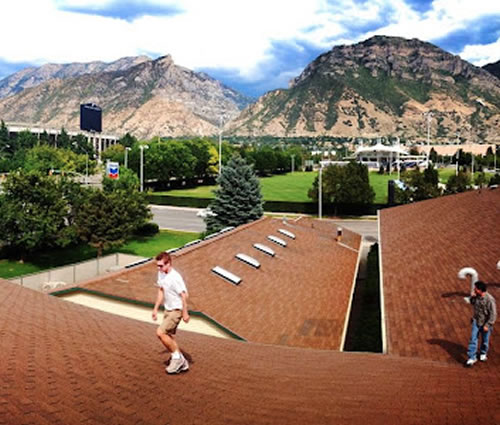 Residential & Commercial Roofing Experts of Utah Valley
Our licensed, expert roofing technicians will implement a solution that meets your needs and fits your budget.

If you're looking for a local, reliable and trusted roofing company in your area then look no further than Liberty Roofing! We've been providing residential and commercial roofing services for over 45 years.
Why You Should Call a Roofer Before Your Insurance Company
Most homeowners despise filing claims through insurance. The task is usually tedious and painful, resulting in hours of lost time. To avoid dealing with the insurance companies, many homeowners call contractors first. There are a few advantages to calling a roofing company before insurance. The biggest advantage is establishing an ally to help you negotiate with insurance, if necessary. Liberty Roofing of Utah will help you with the insurance paperwork if that's the path you choose.
Hiring a Roofing Contractor First May Prevent the Insurer from Denying Your Claim
Insurance adjusters are not roofing experts. Calling a roofing company out to assess damage will guarantee a thorough and accurate inspection. Roofing experts don't look for surface damage, but instead dive deeper to find water and other underlying problems. Insurance adjusters often miss deeper issues and the roof's situation only deteriorates. After a roofing professional has inspected your roof, the company can send a claim to the insurance company for a more accurate appraisal.
Fair Prices and Great Roofing Service
As the roofing company that more Provo Utah customers consistently trust, we're proud of our quality reputation. Would you like to speak with a past customer? We'd love to provide references so you can learn more. Choosing the right roofing contractor is huge. It's a decision you'll have to live with for over a decade. Make the Quality choice. Go with the roofing installers the Utah Valley trusts.
Testimonials
Review buzz
Contacted Liberty last spring, (it's now fall) regarding leak in roof. They were quick to respond and gave me solid bid with explanation of service. During recent storm my roof had small leak in same area. When I called and spoke with Dave, they were on my roof immediately, found the problem (worn dryer vent pipe) and repaired. Received follow up phone call to let me know work was done and please call if any more problems.I have been very impressed with their professional business ethnic, and would recommend their company 100%. First class!!
- Larry Linde
Review buzz
This outfit knows how to do a job and do it well! Without jeopardizing the cost or workmanship!! I'm a contractor as well, and I've seen cheap work and highly priced work! Ya usually you'll get a better job for more mo ey, and not so great of a job for less! This outfit they do a great job for a reasonable price! Liberty Roofing will definately be referred by me!! Thanks for the great job!!
- Kurt M.
Review buzz
A friend recommended Liberty to us, telling us that their bid had come in much lower than others they had gotten. When our general contractor's bid came in higher than we were anticipating, we double-checked with Liberty, and sure enough, their bid came in $500 less than we were quoted by our contractor, and Liberty included other details like adding additional turtle vents, etc. We were very pleased with their promptness, neatness, and thorough work. They were very flexible in working with our contractor's schedule to accommodate other projects happening simultaneously. Would highly recommend them!
- Monica D.
Review buzz
Very happy with the roof repair Liberty Roofing did for me. Called on a Friday afternoon and they had my roof fixed first thing Monday morning. A quick fix was exactly what I was looking for. Thank you Liberty Roofing!
- Chris Ballam
Review buzz
We have a cabin in the Sundance area that gets a ton of snow some winters. Over time we developed a leak that came inside the cabin and down an inside wall. Dave checked out the roof, made several suggestions and gave us a competitive bid. This spring, after a good snowfall this winter, the wall is dry! We found Dave (and Beto) great to work with and very competent.
- Richard Galbraith
Review buzz
Dave's team at Liberty Roofing did a great job on our roof. They made a quality roof for us at a great price. Dave was easy to work with, and his team was great too.
- Erin Amott
Review buzz
Liberty roofing was awesome. They worked on my house in the middle of January and got it done in two days despite the snow. Then they sent someone out as soon as the snow melted to sweep my yard for nails. Dave was always willing to take the time to talk to me about any questions I had.
- Michelle Larsen
Review buzz
I called Liberty to have a quote and it so happened that they were in the neighbor hood, and came right over and gave me a fair quote. The came over two weeks later and had my roof done in two days, they cleaned up the yard and did a great job. I love our new roof. I recommend Liberty Roofing.
- Martha Hodges
Review buzz
Needed a new roof on my business and received multiple quotes. Liberty Roofing was by far the least and did an amazing job. They originally said that they were three weeks out, but had the whole roof finished with in 4 days of calling them. They were also very friendly and professional. I totally recommend using Liberty Roofing!
- Wilkinsons Trophy
Review buzz
I needed a roof inspected and an estimate made on a home we are purchasing. They responded right away, followed up with me, and were extremely flexible as I arranged things with the current owners. He did an estimate and didn't charge for it at all. Very professional and prompt. I was very grateful for their attentive service, and all without any commitment from me that I was going to use their services for a large job. I will definitely use them in the future, just from this experience.
- Barbie DeSoto
Liberty Roofing of Utah Only Works with Quality Roofing Materials







Frequently Asked Questions
As one of the top roofing contractors in Utah, we're often asked the same questions about our roofing services:
How can a homeowner recognize when a roof has problems?
All too often, roof problems are discovered after leaking or other serious damage occurs. Periodic (twice-a-year) inspections can often uncover cracked, warped, or missing shingles, loose seams and deteriorated flashings, excessive surface granules accumulating in the gutters or downspouts, and other visible signs of roof problems. Indoors, look for cracked paint, discolored plasterboard, and peeling wallpaper as signs of damaged roof areas.
What are my options if I decide to reroof?
You have two basic options. You can choose a complete replacement of the roof system, involving a tear-off of the old roof, or a re-cover over the existing roof, involving only the installation of a new membrane and surfacing. If you've already had one recover over your original roof, check with a professional roofing contractor to see if your deck can support a second recover.
My roof leaks. Do I need to have it totally replaced?
Not necessarily. Leaking can result because some flashings have come loose or because a section of the roof has been damaged. A roof failure, however, is generally irreversible and results from improper installation or choice of materials, or from the installation of a roof system inappropriate to the building.
Can't I just do the work myself?
Most work should not be do-it-yourself. Professional roofing contractors are trained to safely and efficiently repair or replace a roof. Novices can harm a roof with improper roofing techniques and severely injure themselves by falling off or even through a roof in need of repair or replacement. Homeowner maintenance should be confined to roof inspections in both the fall and spring to check for cracked or curling shingles, and for cleaning rain gutters filled with dead leaves and other debris. If you must see the roof for yourself, use a firmly braced or tied-off ladder equipped with rubber safety feet. Wear rubber-soled shoes and stay on the ladder (and off the roof) if possible.
How long can I expect my roof to last?
The condition and lifespan of your roof will depend on the type of roof you have, the effects of your local environment and the maintenance which the roof has received. According to the American Society of Home Inspectors, asphalt shingles generally last 15-20 years; wood shingle/shakes, 10-40 years; clay/concrete tiles, 20+ years; slate, 30-100 years; metal roofing, 15-40+years. Roofing product manufacturers offer a variety of warranties on their products. Take a close look at those warranties to see what responsibilities and financial obligations they will assume if their products fail to reach their expected lifetimes.
What will a new roof cost?
The price of a new roof varies widely, depending on the material selected, the contractor doing the work, the home itself, area of the country, local labor rates, time of year, and more. To get a good idea of the cost for your roof, get two of three estimates from reputable contractors in your area. Keep in mind that cost is only one factor, and it must be balanced against the quality of the materials and workmanship. For each roofing material there are different grades – and corresponding prices. Plus, there are a variety of styles and shapes. You need to look at the full product range and make a choice based on your budget and needs. Within the roofing profession there are different levels of expertise and craftsmanship. Pick a contractor who is committed to quality work.
How can I determine my annual cost?
When mulling over your roofing options, the following formula may help:
Total Cost (materials and labor)/Life Expectancy of Roof (in years) = Annual Cost